Save up to $600 on Small Ship Adventures with UnCruise
Explore Alaska by small ship adventure cruise. With UnCruise, it's an extrasensory adventure! See calving glaciers and breaching whales from a skiff. Feel mossy ground beneath your feet on a hike. Hear barking sea lions and the cry of eagles paddling a kayak. Smell crisp pine forests and the fishy breath of a whale. Taste the handcrafted delights cooked, baked, and mixed by your onboard chef, pastry chef, and bartender--it's all included. You may even taste fresh seaweed or wild blueberries on a beachcombing, bushwhacking exploration! It's a feast for your sense of wonder. Rugged islands and inlets, remote corners of Glacier Bay National Park, and the Tongass National Forest. Wildlife around every corner--whales, bears, sea otters, sea lions, mountain goats, and eagles. SAVE up to $600 on a 2019 UnCruise adventure in Alaska! Reserve your cabin on select cruises departing April - September 2019; savings are valid when you book by February 28. * $600/couple AdventurAIR credit on select departures aboard the S.S. Legacy and Safari Quest * Grandparents traveling with their grandkids save $500/couple (plus grandkids ages 8-13 save $500/kid) * Receive a 1-night hotel stay in Juneau, pre- or post-cruise plus Mt. Roberts Tram tickets Small ships, BIG adventures. Click for all offer details and to order your free brochure!
Valid Locations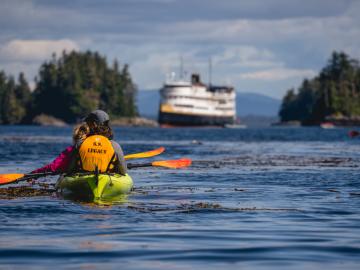 3826 18th Ave W, Seattle, WA 98119
Phone: (206) 284-0300
Toll Free: (888) 862-8881
UnCruise IS adventure in Alaska. Calving glaciers, secluded coves, isolated fjords—UnCruise goes there. And with only 22-90 guests...
details

Visit Website


Map It