Everything You Need to Know About Ferries in Southeast Alaska
Tuesday, May 10, 2022 3:00 PM by Alaska Marine Highway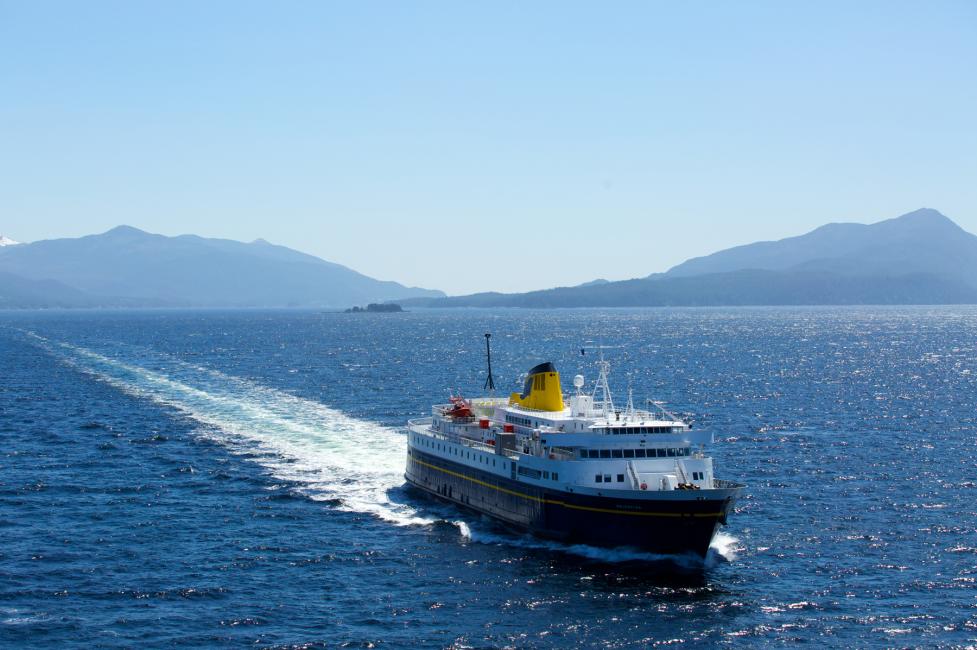 How to Explore Southeast Alaska with the Alaska Marine Highway System  
Odds are if you are viewing this page, you are aware of the unique way in which you must travel when you are in Southeast Alaska, also known as the Inside Passage. If you've stumbled upon this page without that knowledge, let's just get one thing out of the way quickly: moving from community to community requires travel by boat or plane. As the Inside Passage is a 500 mile-long section of coast and outlying islands along Alaska's Southeast region, there are no roads that connect these communities together. Rather, it is a network of ferries, private boats, jet-liners, and bush planes that keep Southeast Alaska connected. At the center of many of these networks is Alaska's capital, Juneau.
Now, we will never tell someone that a bush plane flight through Southeast isn't a thrilling experience - views and mild turbulence and all - but there is a certain way to experience Southeast Alaska that is unlike any other and immerses you in the dramatic coastlines and vast wilderness. The incredible, amazing, wonderful Alaska Marine Highway System.
WHAT IS THE AMHS?
The Alaska Marine Highway System (AMHS) is the network of ferries that keep Southeast Alaska running. It services over 30 communities and currently extends across 3,500 miles of coastline. It is functionally the 'highway' of Southeast Alaska: so much so that it is recognizes as a National Scenic Byway and All-American Road just like legendary highways such as Route 66 and Highway 1. The Alaska Marine Highway System even predates Alaska's statehood! Today, the ferries operated by the Alaska Marine Highway System are a great way to see a huge swath of Alaska's wilderness while visiting unique communities along the way.
WHY CHOOSE AMHS?
A ferry trip is for people who are either looking for a off-the-beaten-track experience, are looking for a more affordable transportation method, or are transporting an RV or vehicle with them. The mix of people you see using AMHS are locals moving from one community to another, tourists on either a prolonged, slow cruise through the small communities of Southeast or on quick weekend trips to other locales, and individuals who are moving to one of the communities serviced by the ferries. For tourism purposes, the ferry represents a great option for people who still want to travel by boat but don't want the fast pace of large cruise ships. By touring Southeast Alaska via AMHS, people are able to make their own itineraries, explore smaller ports of calls, and travel at their own pace. This offers a distinctly more individual experience as the vibrant culture and wilderness of Southeast means no two trips would be the same. The ferry is a great option for shorter weekend trips, too! Ferrying over to Sitka or Haines from Juneau for a few days is super convenient and affordable - so much so that you will often be accompanied by locals exploring their own backyard, sports teams traveling for tournaments, and all of the resources that these remote communities need to continue running.
HOW TO PLAN
So you've decided you want to travel through Southeast Alaska on the Alaska Marine Highway System - great! Now, where do you start? Our first recommendation is to see what communities the ferry stops in and, from that list, choose several that you want to see. You can find that list here and it will include larger ports of call such as Juneau, Sitka, Skagway, and Ketchikan along with smaller ones like Angoon, Pelican, Wrangell, Kake, and Yakutat. Once you've chosen your top communities, you can start to look at the ferry schedule to put dates onto a calendar. It is important to note that no Alaska Marine Highway ferries are hop on, hop off! This means that if you want to spend an overnight in a community, you will have to account for that when you initially book your ferry tickets. Make sure to approach this scheduling period with an open mind, too. The ferries don't run to every community every day so expect to have some dates shuffle around during planning.
TIPS AND TRICKS
Give yourself plenty of time. As was previously mentioned, the ferries don't run to every community every day. This means not only that your arrival/departure dates might be chosen for you, but that you might spend three or four nights in a community instead of one due to that particular community's ferry schedule. The trick to a successful AMHS cruise trip is to not rush it. The ability to explore the depth of culture and variety of wilderness that Southeast Alaska offers is the whole purpose of a AMHS cruise trip and the only way to do that adequately is through time.
Call an expert. We understand that the cruise schedule can be a tad confusing for those who don't use it frequently and that the pressure of making sure you have everything booked correctly can be a lot. Thankfully, the Alaska Marine Highway are experts at this sort of thing and you can contact them anytime at 800-642-0066 or dot.ask.amhs@alaska.gov. They will be more than happy to answer any itinerary questions you have and can even help you book the trip, too!
Juneau and the rest of Southeast Alaska is inseparable from its dramatic coastlines, aquatic wildlife, Alaskan Native culture, and remote wilderness. One of the best ways to connect with all of those things and to really immerse yourself in all that Southeast has to offer is to experience it via the Alaska Marine Highway System.

Author: Alaska Marine Highway
The Alaska Marine Highway operates a fleet of vessels along a scenic 3,500- mile route from Washington State to the Aleutian Islands. It provides economical, year-round transportation to over 30 port communities and is a unique option for travelers. Originally designed to provide transportation to road less areas of Alaska, the Marine Highway offers locals and visitors alike the ability to travel together through some of the most breathtaking scenery in the world. In fact, the Marine Highway encompasses a route so spectacular it has been designated an All-American Road and one of America's National Scenic Byways.
Comments