5 Foodie Experiences you must have in Juneau
Sunday, September 3, 2017 4:00 PM by Lina Stock, Divergent Travelers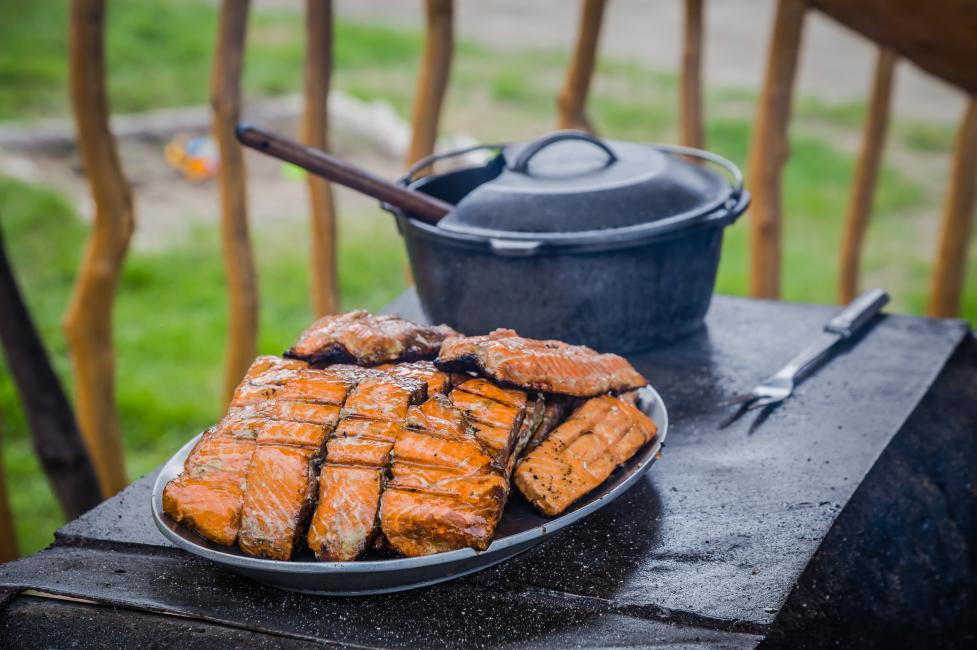 Food is a huge part of travel and a visit to Juneau is no exception. Located on the ocean, seafood is at the heart of the best food your money can buy in Juneau. When you're done adventuring in the mountains and climbing on glaciers, be sure to fuel up with one of the many fantastic dining options on offer.
King Crab Legs
Coming from the depths of the Bering Sea, these legs are no joke. Tracy's Crab Shack, located right in downtown, serves up some of the biggest crab legs you will ever see. Steamed to perfection and served individually wrapped with a lemon wedge and butter, it's recommended to start by just ordering one.
Easily reaching 18 inches in length, these are the only crab legs you'll ever eat that are worth the work. Cracking the shell off and exposing the interior will treat you to steak-sized pieces of sweet, succulent crab meat. You can't really go wrong.
Halibut Fish N Chips
Ditch the Cod for the day and try some of Juneau's freshly caught Halibut, fried in a light breading to a perfect golden brown and served with fries. A classic dish, we never had a bad plate of Fish N' Chips during our visit.
The best part is that this dish is a staple and you can find it just about anywhere you sit down in Juneau. A couple of great spots to order include Alaska Fish N' Chip Company, The Hangar on the Wharf, McGivney's and the Twisted Fish Company.
Salmon Bake
You are in Alaska, after all. This classic dining experience should not be missed and you won't regret it. The salmon bake at the Taku Glacier Lodge serves up a delicious Alderwood fire grilled salmon with a honey glaze, special slow cooked baked beans, fresh coleslaw, pioneer fruit compote, Alaskan sourdough bread, herb biscuits and their famous Taku Lodge ginger cookies.
Not to mention the meal is served up in an original cabin that used to be the home of Mary Joyce, a famous Alaskan dog musher. From the front yard, you have a clear view of the adjacent Hole-In-The-Wall Glacier and are free to explore the grounds during your visit.
Coppa Ice Cream
This won't be your usual ice cream experience; Coppa uses the natural flavors of Alaska to produce unique homemade ice cream in downtown Juneau. Think Spruce Tip, Rootbeer Marshmallow and Birch Butter Pecan to name a few.
Even more popular is their award-winning Candied Salmon ice cream, harnessing the beloved staple of the great northern frontier state. They rotate their flavors regularly so it never hurts to stop multiple times during your time in Juneau.
Try A Duck Fart
You did not read that wrong. The Duck Fart just so happens to be the drink of Juneau. Walk into any bar in town and the bartender will know how to make it. For those of you that are skeptical, don't be.
The Dark Fart is a layered shot made from Kahlua, Bailey's Irish Cream and Crown Royal Whiskey. They are poured in that order using a spoon so each layer doesn't disrupt the one below it.  This drink is an Alaskan right of passage.

Author: Lina Stock, Divergent Travelers
Lina Stock is one half of the popular adventure travel blog, Divergent Travelers and an award-winning professional travel photographer. Together with her husband, David, they are on a mission to experience the world's Top 100 Travel Adventures and document them on their site. They've been traveling together since 2001 and have visited 76 countries on 6 continents.
Comments