4 Reasons You Should Visit Juneau in the Winter
Tuesday, April 3, 2018 8:00 AM by Lauren Monitz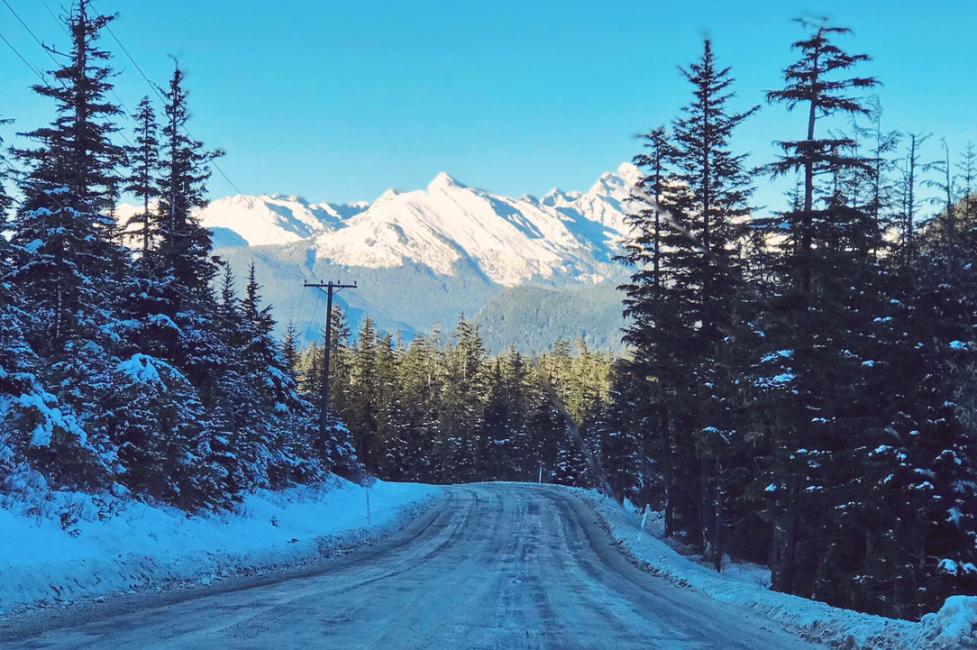 People assume that winter in Alaska is dark and foreboding, but really that couldn't be further from the truth. In the capital, snow-capped peaks flank the glassy lake, giving the entire scene the look of a snow globe brought to life. Fresh powder and rosy cheeks greet you at every turn with smiles from cheerful residents and delicious food to fill your belly.
If you're thinking about planning a cold-weathered visit to the Last Frontier, here are four reasons winter is the secret season in Juneau. To quote the famous last words of Elsa, "The cold never bothered me anyway."
THEY KNOW HOW TO ENTERTAIN THEMSELVES.

Juneau is definitely not a hibernate through the winter or "Netflix and chill" kind of place. The bars are hopping year-round with everything from speakeasies to divey, hole-in-the-walls, ensuring plenty of places to pick your poison. Local favorites include the Alaskan Brewing Company for its colorful beer flights, the Alaskan's live music scene, and the Red Dog Saloon for their iconic duck fart shots, a triple layering of spirits that'll definitely warm you right up.
Beyond the regular spots to revel, there are also a number of special events that are held throughout the winter and big town to-dos. Wearable Arts, a pop-up fashion show, is as avant-garde as it is creative. While it was great to see the Haute design pieces come together, the bigger takeaway was the warm fuzzies for the overwhelmingly inclusive support of major causes like love is love, breast cancer, and Down's syndrome.
THE FOOD SCENE IS POPPING.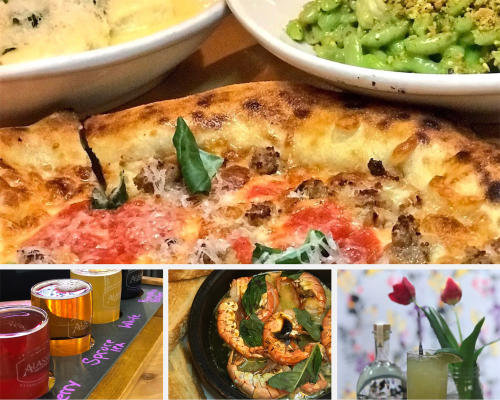 ​
While a few local favorites like Tracy's King Crab Shack are closed for the season, there are still plenty of spots to indulge. You can get your fill of fresh, locally-caught seafood from famed crab legs to Alaska halibut and salmon at the Hangar on the Wharf, or sample a little of everything on a Juneau Food Tour.
Midgi will parade you around town like a celebrity introducing you to all her favorite chefs and restaurateurs so you get to sample everything in Juneau's innovative food and beverage scene. There are endless bites from cool fusion places like V's Cellar Door to Italian creations from two-time James Beard nominee at In Bocca al Lupo in places you likely wouldn't have stumbled into on your own. And when you're ready to wash it all down? The clean gin cocktails from Amalga Distillery are waiting.
IT'S A COZY, TIGHT-KNIT COMMUNITY

Photo by Adam Sawyer
We witnessed time and time again the advantages of small-town living. When our car broke down (at the brewery, no less), plenty of nice locals offered to drive us wherever we needed to go. Everyone was warm and welcoming, and proud to show off their city. For a good overview of the area, head to the Alaska State Museum where the docents are more than happy to give you a rundown of the area's history and proud traditions.
It was fun running into people we'd just met around every turn from the local ski resort to the bars at night, and it was cool seeing a friendly face at each restaurant we frequented. There really is something to feeling like a big fish in a small pond.
IT'S A PLACE TO APPRECIATE MOTHER NAUTRE'S AWESOME POWER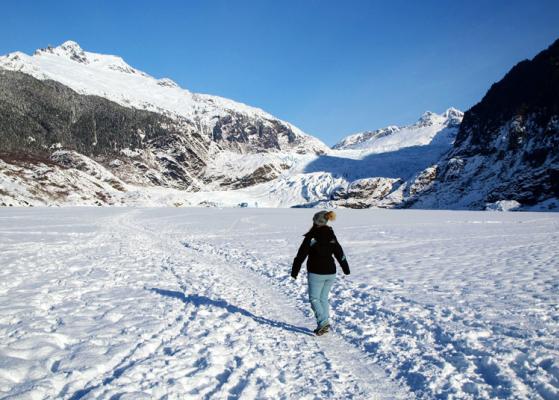 Photo by Adam Sawyer
You never quite know what you're going to get with weather, snow, or even sky conditions in Alaska so you have to expect the unexpected. You can hike on a frozen lake with views of the mighty Mendenhall Glacier in winter, while in summer the same route is only accessible via kayaks. The ice caves appear and disappear with the seasons.
Sometimes the ski area isn't open until December and the main lift until even February, and other times, much earlier. If you're lucky, the Northern Lights will make an appearance. Either way, it's a place to respect the raw unpredictability of it all and feel appreciative if the conditions do work out in your favor.

Author: Lauren Monitz
Lauren Monitz is a travel/food writer and social media influencer specializing in approachable adventures and offbeat explorations. From becoming a certified viking in Iceland to blackwater rafting in New Zealand, she intentionally seeks out the most unique and photogenic attractions wherever she goes. She has bylines across the web from Thrillist and the Huffington Post to Eater and the Food Network. You can follow her (mis)adventures on http://thedownlo.com or on Instagram @lmonitz.
Comments