More Miles of Trail Than Paved Road
Tuesday, March 7, 2017 6:00 PM by Travel Juneau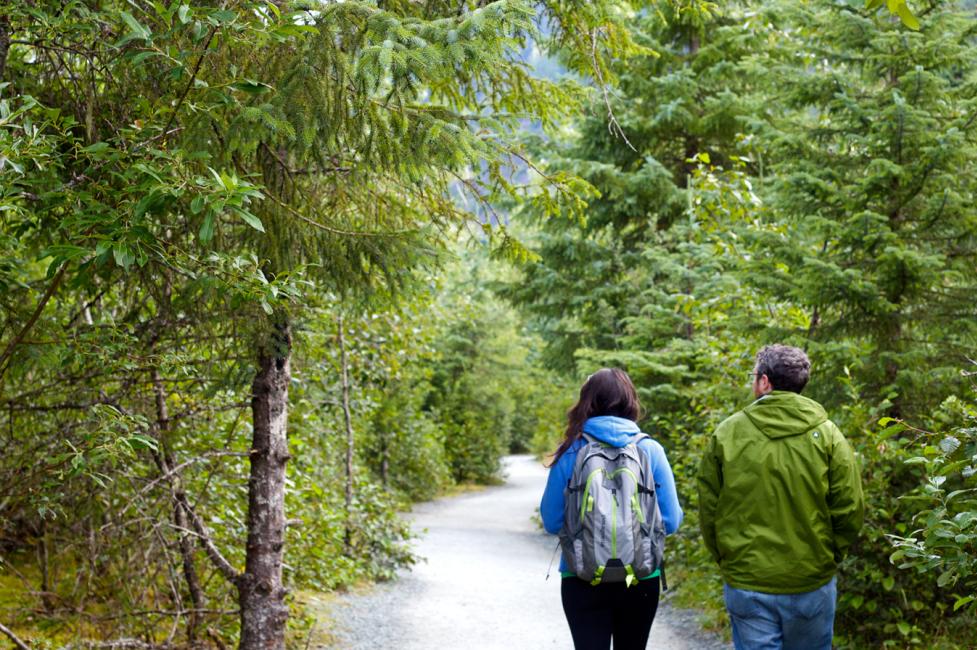 Do you want to hike about 3500 vertical feet and take in the stunning panorama? Walk along a glacier-fed stream, through dense rainforest? Stroll along the beach, watching harbor seals and eagles? How about a rock scramble?
Juneau's abundant trail system has something for everyone?
Whatever your hike, Juneau has your trail – more than 250 miles' worth!
Juneau-ites love the trails, so don't be surprised to meet locals out with kids and dogs on popular trails closer to town. On the more remote trails, you can hike long stretches without seeing another person. Regardless of your trail choice, keep an eye out for wildlife: black bears, porcupines, bald eagles, and even the occasional deer. Oh, and squirrels. Lots of squirrels.
One of our favorites is Perseverance Trail. The trailhead is close to downtown, and the 3 mile round-trip takes you into the Silverbow Basin where gold was discovered, kicking off the early Alaska gold rush, the trail runs alongside Gold Creek, a rushing, rock-strewn, snowmelt-fed stream; from the trail, you look up the steep sides of the coast range and walk through both forest and sub-alpine meadows. It's a great way to stretch your legs.
Tips to make your day hike more enjoyable:
Not sure where to go or how much time you need? Check out Travel Juneau's list of trails or Adventure Flow's "Juneau Trail Guide" 
Even on short hikes, take plain water and fully-sealed snacks, because sugary drinks or food will attract bears. Finish the latte before hitting the trail.
We can't say this enough: be prepared for quick changes in the weather. A sunny warm day can turn rainy and chilly in an instant.
Juneau is a friendly town – when you happen upon a runner or another hiker, don't be afraid to say "Hi!" We're glad you're here.

Author: Travel Juneau
One of the amazing members of the Travel Juneau staff spent days and days researching and writing this ridiculously awesome post without even stopping for a sip of water or a moment of shut eye. That's okay, we love our visitors so much we feel it was worth it. We hope you enjoy!
Comments