Alaska Native Culture
Monday, May 15, 2017 9:00 AM by Travel Juneau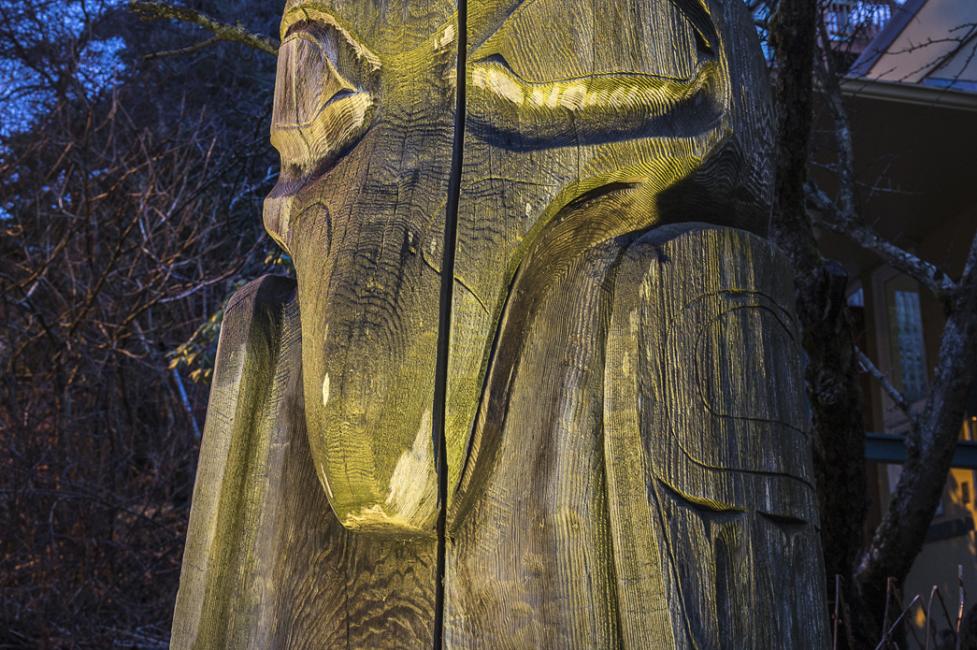 Alaska's Native culture permeates the Inside Passage. The Juneau area has been the ancestral home to Tlingit tribe for millennia, and they named the fishing village Dzantik'i Heeni, roughly translated as "where the flatfish gather."
Visitors often ask us how to experience Alaska Native culture. Fortunately in Juneau, you have lots of options. Here are some ideas practically at your doorstep:
Walk through downtown and spy the totem poles. Hint: the Juneau-Douglas City Museum, the Governor's House, and on Willoughby Street.
Ride to the top of the Goldbelt-Mt. Roberts Tramway and walk through the docking building. It's full of Northwest Coast art, and you can view a short cultural video about the Tlingit of Southeast Alaska. You might even be able to take a turn carving with an expert artist.
Visit Sealaska Heritage Institute, located in the heart of downtown, and experience their rotating displays of both ancient and modern Northwest Coast art pieces. A leader in the preservation of Tlingit, Haida, and Tsimshian cultures, SHI has led an effort to teach languages and art. Here, too, you will find regional artists creating new works.
Northwest Coast Art is all over Juneau, and you may well want to buy a piece of your own. But how do you know if what you're buying is authentic? And why does that matter?
Turns out, it matters a lot. SHI has worked hard to educate the public about the importance of supporting local and regional Native artists and the sacred nature of certain pieces. Authentic pieces incorporate traditional formline, the building block of Northwest Coast art, and artists spend their lifetimes mastering it. Unfortunately, there are stores that stock mass-produced pieces that misrepresent formline and cultural meaning. If you're not sure about a piece's authenticity, ask. SHI notes,
"Native arts and at.óow (sacred clan objects) are a vital component of Alaska Native cultures and are integral to Native cultural survival. The sale of Alaska Native arts contributes to the economic welfare of Native artists, families and communities."
Authentic works will have a special sticker or tag identifying them. The knowledgeable volunteers at any of Travel Juneau's visitor information centers will be happy to refer you to shops that support of Alaska's Native artists and their culture.

Author: Travel Juneau
One of the amazing members of the Travel Juneau staff spent days and days researching and writing this ridiculously awesome post without even stopping for a sip of water or a moment of shut eye. That's okay, we love our visitors so much we feel it was worth it. We hope you enjoy!
Comments