5 Must Have Adventures in Juneau
Monday, August 7, 2017 6:00 AM by Lina Stock, Divergent Travelers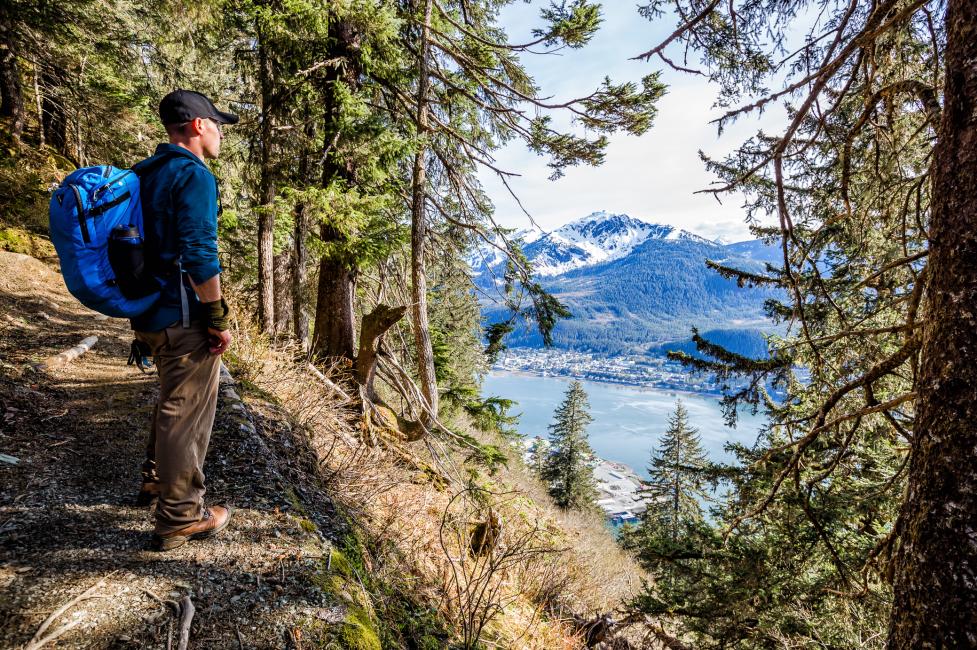 Five days in Juneau was just enough time for me to realize I could spend a lifetime here and never tire of its beauty or adventure options. This is what makes Juneau a great destination for adventure and outdoor lovers. These 5 adventures showcase some of the best on offer and you shouldn't visit without experiencing them.
Climb Mount Roberts
There's more than one way to get to the top of Mount Roberts and our favorite way is to hike up. The trailhead is easy to access on foot from downtown Juneau and once you get to it, you'll enter a wooded wonderland of temperate rainforest as you begin your hike to the top.
The complete distance of the trailhead to the summit is 7 miles but stopping when you reach the tram station is roughly 4 miles and takes 1-2 hours depending on your pace. You can't beat the views on a sunny day and once you're there, grab a beer or souvenir for $10 or more and you get a free ride back down to town on the tramway.
Canoe to the Mendenhall Glacier Ice Caves
The Mendenhall Glacier is a huge attraction and with good reason, it's reasonably accessible. Despite this, most people only visit the visitor's center and take short walks around the general area. Dig deeper and go outside the norm with a visit to the Mendenhall ice caves.
Admittedly, they take some effort to reach but are worth it. Our favorite option is taking a canoe across the lake, landing on the beach to the West of the glacier before hiking up to the caves.  Read about our experience at the Mendenhall Ice Caves for a first-hand account of this adventure. This surreal experience is an adventure you shouldn't miss in Juneau.
Go Ziplining on Douglas Island
Spend a morning soaring between the trees on Douglas Island.  With 10 platforms, 7 zip lines and a suspension bridge, Alaska Zipline Adventures gives you an intimate look at the forest and some adrenaline to go with it.
What we loved about this trip was the journey into the center of Douglas Island. The forest is thick here and once you reach the end of the road, your adventure takes place in rustic wilderness.
Hike the West Glacier Trail
If you are into spectacular views, unique forests and quiet trails then you'll want to check out the West Glacier Trail.  This 3.5 mile trail starts at the end of Skater's Road and ends at a stunning rocky overlook of the Mendenhall Glacier. While the beginning of it is relatively flat, as you get further in the trail becomes steep with rough footing.
What I loved about this hike was the raw natural beauty. All of Juneau's forests are beautiful, but this trail had a special feel to it with thick blankets of moss on the ground and rushing streams. If you like to hike, I wouldn't miss this trail.
Visit Taku Glacier Lodge
This day trip combines some of the best of Juneau into one amazing outing. The trip starts in downtown Juneau where you board a float place and take off for a scenic flight over Juneau, the surrounding area and the Juneau Ice Field. I have never seen more glacier ice in my life, it's spectacular.
Arriving at the Taku Glacier Lodge, you land on the water and dock before enjoying a couple hours on the grounds of this historic lodge, enjoying a traditionally cooked salmon bake and listening to stories about the people that used to live in this remote place.

Author: Lina Stock, Divergent Travelers
Lina Stock is one half of the popular adventure travel blog, Divergent Travelers and an award-winning professional travel photographer. Together with her husband, David, they are on a mission to experience the world's Top 100 Travel Adventures and document them on their site. They've been traveling together since 2001 and have visited 76 countries on 6 continents.
Comments